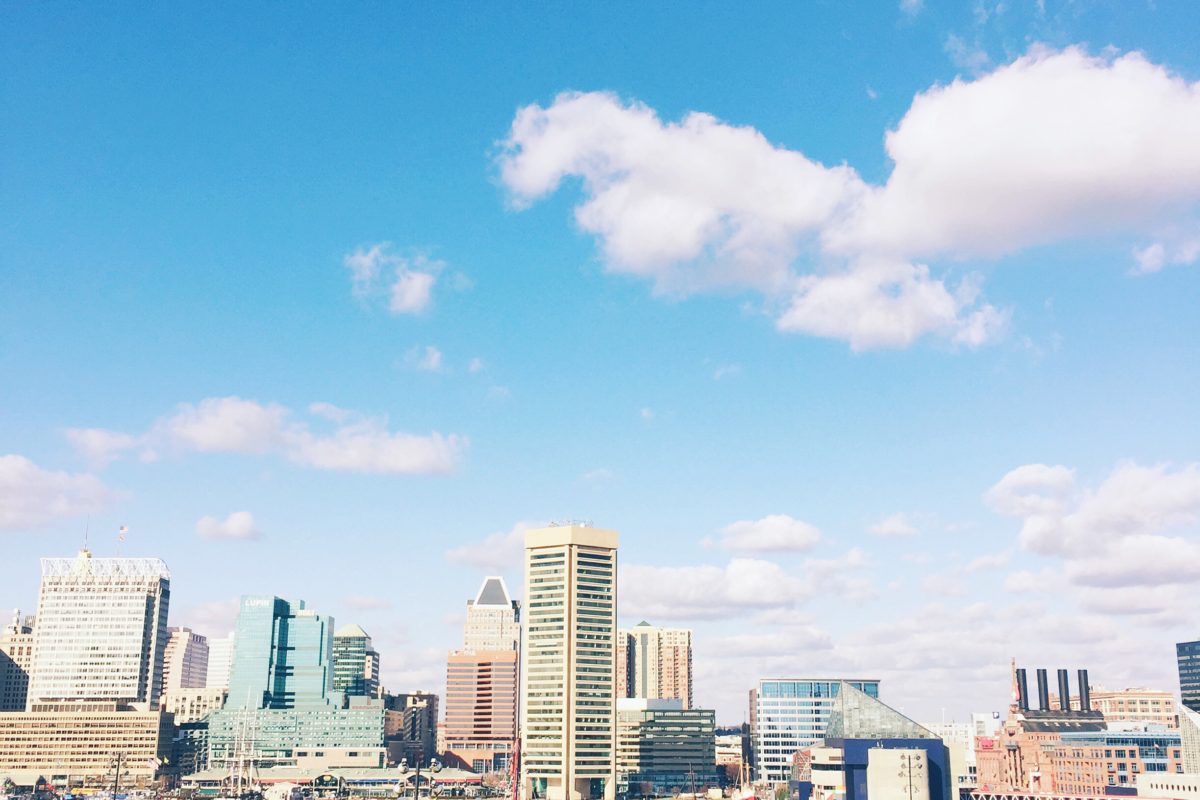 One of my resolutions is to travel more and I've started off a few months of heavy jet setting with a trip to Baltimore. I've never been to Charm City before this but I'd heard the usual stories about it being dangerous, derelict, and unfriendly to tourists. The city I found was a burgeoning arts paradise with beautiful architecture, hip galleries, and an unparalleled street art scene.
 For every row house in a dangerous neighborhood, there's a beautifully painted, newly renovated place like these. I noticed a lot of new development and up-and-coming neighborhoods in the city. Low cost of living and plentiful jobs makes Baltimore very attractive to new grads, bringing a wave of youth culture and energy to town. 
Though known for their Matisse's, the Baltimore Museum of Art has a fantastic contemporary collection, and an unexpected number of Warhols. Through March 12 they're showing an awesome exhibit on the feminist collective Guerrilla Girls. They also boast a number of interactive pieces to touch, dance, and pose on. 
The Baltimore street art scene is amazing. You can't turn a corner without finding a mural. No parking lot or building side goes unadorned. The Baltimore Mural Program was instituted by the city in 1975 to make the neighborhoods more attractive and instill pride in the residents. They've helped produce more than 250 murals by local artists. 
Jonathan Borofsky's "Male/Female" sculpture, located at Penn Station, has been named the kinkiest and most hated artwork in Baltimore. Michael Farley wrote a fascinating (though somewhat graphic, fair warning) article about the piece for City Paper. Artist's intention aside, it speaks a lot to contemporary issues of gay and transgender rights. 
One of my favorite parts of the trip was visiting the Graffiti Warehouse and behind it, Graffiti Alley, a city-sanctioned space for graffiti artists to work. We happened to go on a day they were having an open-house for photo shoots. It was really cool to see photographers and models at work in the edgy, editorial, space. 
For a dose of more traditional art we hit The Walters Art Museum, which covers ancient and medieval art. The rooms are beautifully curated and there's an interesting collection of dark ages weaponry on the first floor. This is a great spot for bloggers looking to get an outfit shoot in. In fact, there was a wedding shoot in progress when we left the museum.
I highly recommend Baltimore for the artsy traveler. In addition to the visual art there's a lot of spoken word performances, avant-garde theater, and local music to be experienced. The city's got a whole new rep from when Tracy Turnblad ruled the streets.