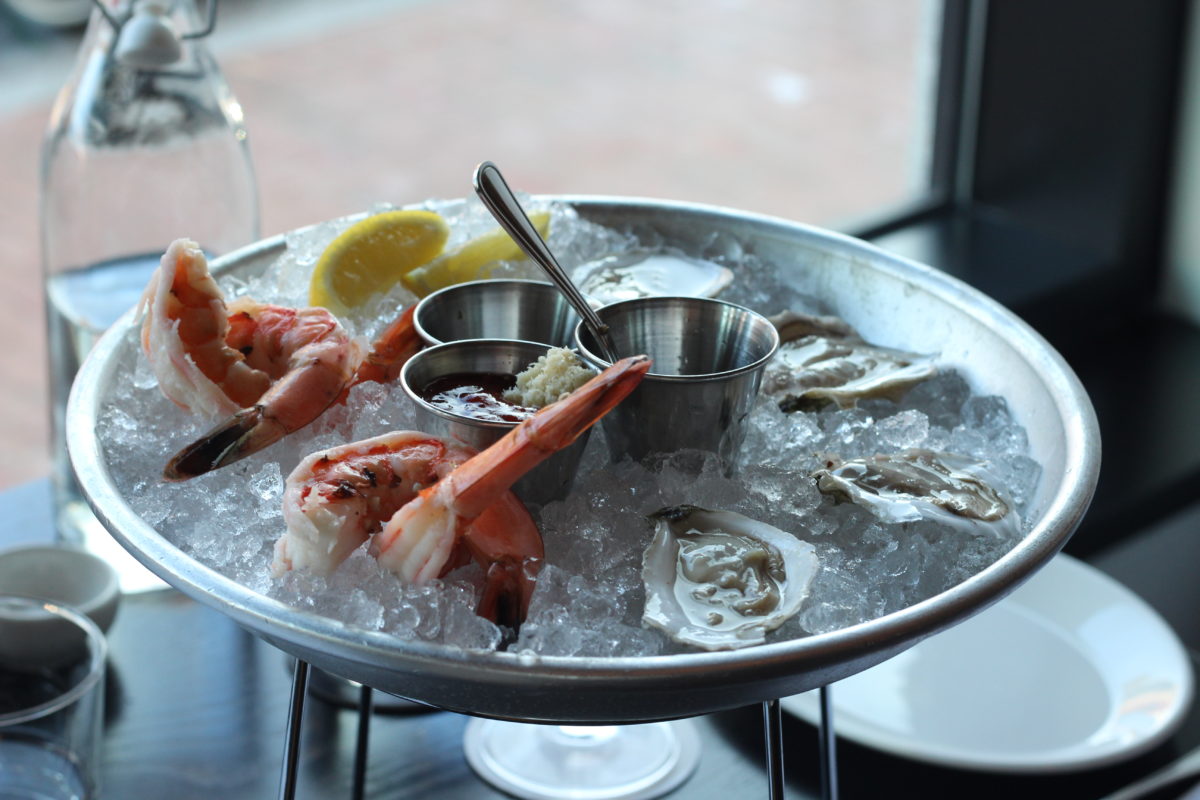 In this second installment of my Ogunquit Travel Guide (see the first here), I'm covering where to eat on the road to the seaside city, and once you're there.
On the Way Up:
The route up from Boston takes you through one of my other favorite seacoast spots, Portsmouth, NH. I recommend stopping for lunch at Row 34. Nothing gets you into the vacation spirit like their unparalleled raw bar. The restaurant started out in Boston and let me tell you, that location is still impossible to get into. The Portsmouth location is much more accessible, but no less delicious.
Row 34 is best known for the aforementioned raw bar that allows you to build your own seafood tower, and their extensive craft beer collection. I also recommend giving the clam chowder a try (they use bacon fat to make it, it's unbelievable) and perusing their cocktail list.
In Kittery, just down the street from the outlets, you'll find Robert's Maine Grill, a charming, local restaurant that achieves both the serenity of the Oceanside and the convenience of a main route. I recommend the lobster roll. Robert's lets you choose whether you want it with butter, mayo, or half and half. It's hard to get this New England classic right but they've got it down to a science here. Light on the condiments, heavy on the lobster meat. 
They also offer their desserts in regular and "bite sized" portions. Perfect for when you just need a little something sweet.
In and Around Ogunquit:
For classic, no-fuss local fare, Bull & Claw in Wells is a must. Daryl Tudisco has been running the local favorite for 42 years and has never compromised on quality or price. In addition to the perfectly cooked lobsters and steaks, Daryl dishes up some incredible stories. Back when he first opened the restaurant, he would wake up at 4am and go fishing, then they would serve fresh blue fish all day. 
Originally the restaurant was named "Bull and Bear" (and they literally sold bear meat, because Maine). As interest in bear meat declined they began to incorporate seafood. Daryl embodies the hardworking, no-nonsense Mainer spirit. His salad bar is housed in a re-purposed 19th century fishing boat that a friend was planning on bringing to the dump. He's a certified plumber and electrician and the resident IT guy. Whether it's cooking on the line, answering the phone, or fixing up light fixtures, Daryl does it all.
As I mentioned in Ogunquit: Where to Stay, Meadowmere Resort set up a few dinners for us. Our first night we dined at Clay Hill Farm and it is not an experience to be missed. Nestled in the woods, set back from the road, the beautiful property feels like another world. Fridays through Mondays they have live music playing to add the ambiance. 
On top of the idyllic scenery, the food is incredible. Until I came to Clay Hill, the best duck I'd ever had was in a tiny bistro in Paris. This was better. Perfectly cooked with interesting but subtle flavors. The vegetarian option, a butternut squash risotto had all the delicate intricacies of a culinary Mona Lisa. With the Meadowmere package each person receives one of each generous course (4 in total per person). We had so many leftovers I got to re-live that magnificent meal all week.
Our second dinner in the Meadowmere package was at MC Perkins Cove. My friends familiar with Maine had raved about this place, and it didn't disappoint. Large form windows offer a stunning panoramic view of the cove for a scenic dinner no matter where you sit. The food incorporated a variety of international flavors, bringing some diversity to the seafood-centric locale. 
I recommend skipping the oysters for the mussels which come in a tangy roasted red pepper sauce with a moist chickpea cornbread. Their fish of the day is brought in fresh every morning and their famed trout dish, made with dark beer, Xiao Xiang wine, and ginger, comes  with the head on for a dish that's both delicious and Instagram friendly.
For a more casual atmosphere, head to Cornerstone for handcrafted pizza and an extensive local beer list. Cornerstone owner Mike does not take the moniker "artisanal" lightly. Every pie on the list is uniquely crafted with fresh ingredients and avant garde flavors. I tried one of the most-loved dishes, the mushroom truffle pizza and I'm still dreaming about it. The creamy cheese and mushrooms were divinely balanced by fresh arugula and a generous dose of truffle oil.
Even better, Cornerstone sits smack in the center of downtown Ogunquit with a spacious open patio, perfect for summer day drinking before heading back to the beach.
The New England seacoast is a foodie paradise. Whether you're looking for traditional beach grub, a romantic dinner with a view, or bold culinary creations, you can find it here.
Please note: I was provided with complimentary meals at the above locations, however all opinions are my own.