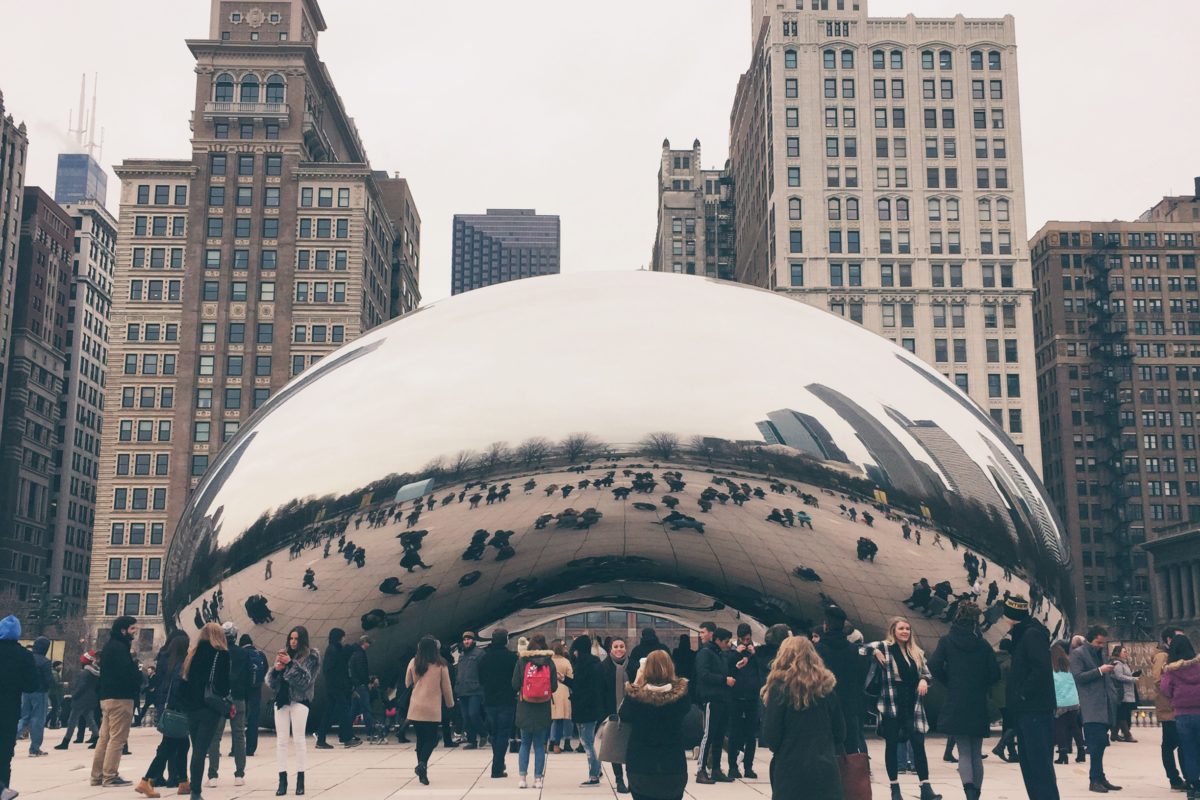 Frankly, I can't believe it took me 23 years to get to Chicago. It's got art, a hip food scene, great shopping, and a violent criminal history, everything I love in a travel destination! Last weekend I took a three-day trip to Chicago and fell in love with the sprawling, vibrant, artsy city. It retains the bones of its industrial heritage but with the aesthetic and public programming improvements of a great metropolis. 
I imagine winter is the worst time to visit Chicago. I lucked out with 35-and-sunny days, but I've heard it can get pretty bitter cold through March. That said, I took a brief walk down Navy Pier and I'm betting it's a traveler's paradise in the summer. Boasting a huge ferris wheel, food vendors, performance space, and a view of the lake that looks just enough like the ocean to appease this East Coaster, the pier has all the trappings of a summertime carnival. 
Naturally I spent most of my time soaking in all the art the city has to offer. The Basim Magdy exhibit at the Museum of Contemporary Art was particularly striking from a curatorial standpoint. The bold but minimalist wall designs perfectly compliment the pop sensibilities of the Egyptian artist. For fans of Japanese animation, an exhibit on the animation of Takashi Murakami opens June 6. 
This piece featured abstract images of war with quotes telling an apocalyptic love story. This quote stuck with me most, "He saw landscapes as financial opportunities, she saw children playing around countryside houses." This really speaks to having an analytical versus emotional attitude towards art and romance. 
One evening I hit up Green Mill Cocktail Lounge, a jazz bar famous for being one of Al Capone's favorite haunts. The tunnels underneath the lounge that he used to evade authorities and knock off enemies still exist. Unfortunately they're closed to the public and I couldn't sweet talk my way into them. The lounge still has an old-world '20s vibe with leather bar seats, booths, and painted murals on the walls. Performers do 3-4 sets over a 4 hour period and if you come on the hour you have a better chance of getting in as people filter out between performances. 
On my art tour I couldn't miss The Art Institute of Chicago, known for pieces like Nighthawks by Edward Hopper, Sunday Afternoon on the Island of La Grande Jatte by Georges Seurat, and American Gothic by Grant Wood. Per my tastes, I sought out their solid collection of Goya portraits and prints. Most of their prints are off view but they do have out the Friar Pedro and El Maragato series. Chagall's stained glass triptych is also a must-see. 
This colored garage was an off-the-beaten-path photo opp, but it represents a thriving street art scene. Most of the murals are condensed in the Wabash Arts Corridor on – surprise – Wabash Street.  Called a "living, urban canvas," the street has different murals every block to engage students and local artists in Chicago's cultural landscape. The arts corridor will be hosting docent-led tours, live music, and the unveiling of new murals during Columbia's Manifest Urban Arts Festival on May 13th. 
Chicago houses a vibrant food scene, but being a blogger I was most interested in restaurants that were both delicious and instagrammable. The Hampton Social takes the cake for most 'grammable spot, and the seafood inspired brunch was well worth the hype. Even as a Boston-based fish snob, the open-faced Lobster BLT with a fried egg made me swoon. 
And, of course, I had to swing by Anish Kapoor's Cloud Gate in Millennium Park. Millennium, and the bordering Grant Park, are beautiful, European-style gardens that merit a visit, and if it's summertime, a picnic. Conveniently, the Wabash Arts Corridor and the Art Institute are all within walking distance of the parks.