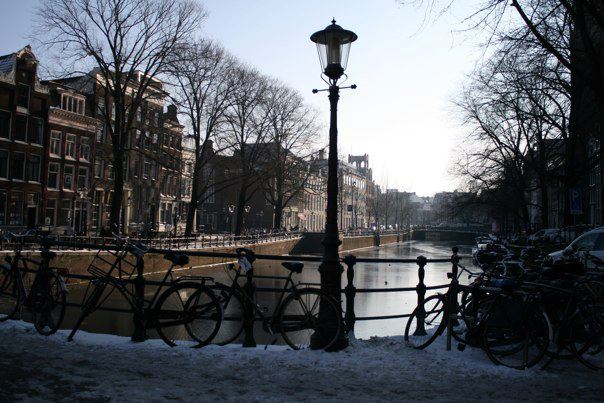 This past weekend I traveled to Amsterdam with my friends for an action packed weekend! Between museums, walking tours, shopping, nightlife, and of course, food, it was one very full weekend. Here are some shots from my trip.
The buildings in Amsterdam are so beautiful! The canals are lined with gorgeous homes from the 17th century. The buildings are so narrow because taxes used to be measured by the width of the facade of your house. So instead of risking paying high taxes, everyone made homes with thin facades and very deep sides.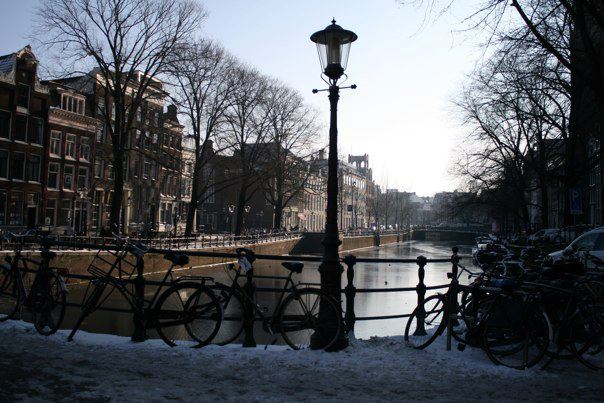 I'm obsessed with this fur hat. I bought it on a whim before the trip and I am so happy I did. It's very warm and I fit in perfectly with the native Amsterdammers! Several people actually mistook me for a Dutch student, so I consider my work done here.
Bikes are everywhere in Amsterdam. My professor jokes that the hierarchy of traffic in the city goes as such: (from low to high) pedestrians, cars, God, and bikes.
This is the Amsterdam Central train station, we took a train and a bus to get back to Well, it takes about three hours to get home.
One of my favorite parts of traveling is the food. There is so much incredible food in Amsterdam. We stopped at a little Italian restaurant on our last day there and it had the most incredible food. On a cold day there is nothing better than some warm comfort food.
This is in Dam Square, one of the most popular tourist spots in Amsterdam. It features the Royal Palace where the Queen stays when she comes into the city.
French fries, or frites, with mayonnaise is a very popular street food in Amsterdam. I have to admit, after a long night out there is nothing quite like a large serving of these.
These are my roommates and main travel companions. From left to right: Jenni, me, Ripley, and Jamie (my photographer).
How stunning is this photograph? There were a few horse drawn buggies that ride tourists around the city and Jamie grabbed this amazing shot while they were resting in Dam Square.
We all know how I feel about coffee. And the Europeans know how to do it right.
And finally, my first pair of European shoes! I purchased these in the city just before we left. Gorgeous, no? I'm thinking one pair of shoes per country. You know, for posterity's sake.
Photos by Jamie Kaplan.