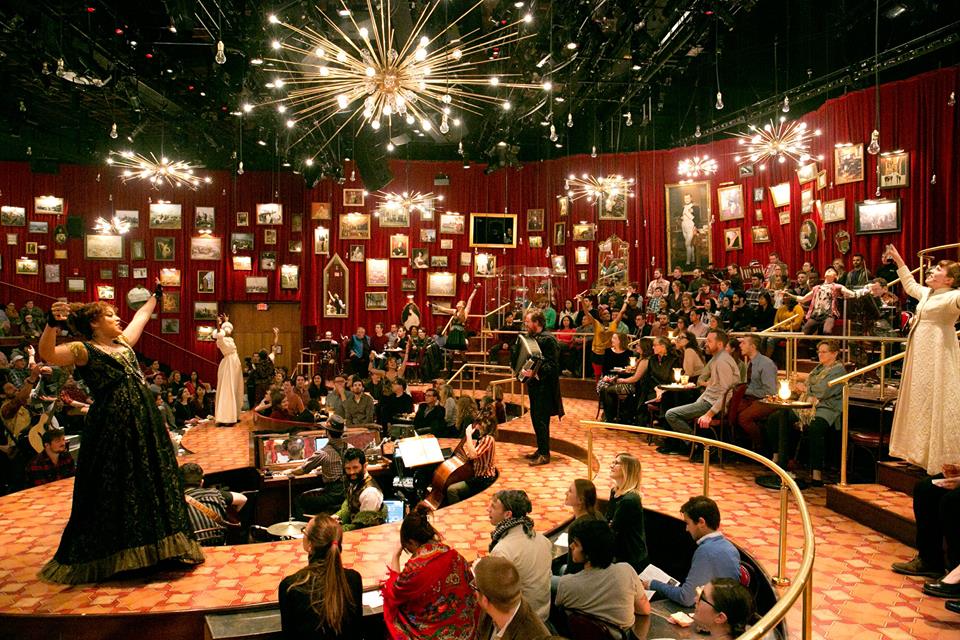 As an avid consumer of culture in Boston, I see a lot of performances. But few, if any, have matched the new show at the American Repertory Theatre in Cambridge. Natasha, Pierre & the Great Comet of 1812 is a pop-rock opera adaptation of a slice of War and Peace. It follows Natasha Rostova as she struggles to stay true to her fiancé Andrey in the face of a charming playboy. I have read and loved Tolstoy for many years now. I have several translations of War and Peace under my belt. I can list his extended family in alphabetical order. I dressed up like him last week. The Great Comet perfectly embodies the feeling of reading Russian literature, a feeling I have been working to articulate since I cracked open Anna Karenina at 15. Tolstoy is funny and romantic, tragic and philosophical, and playwright Dave Malloy brings all of that to the show.
From the moment you step into the theater you're transported. The traditional stage setup has been completely remodeled and you find yourself entering a 19th century Russian nightclub. Rich velvet covers the walls and over 400 portraits from Tolstoy and Napoleon to the reining Romanov hang from the ceiling. I was seated at a cafe table on stage. Visitors are encouraged to bring their drinks (most appropriately vodka) to their seats and before the show began the actors came around handing out perogies. Sitting in this lavish setting, sipping wine and eating Russian fare, I may well have been in Moscow or Petersburg.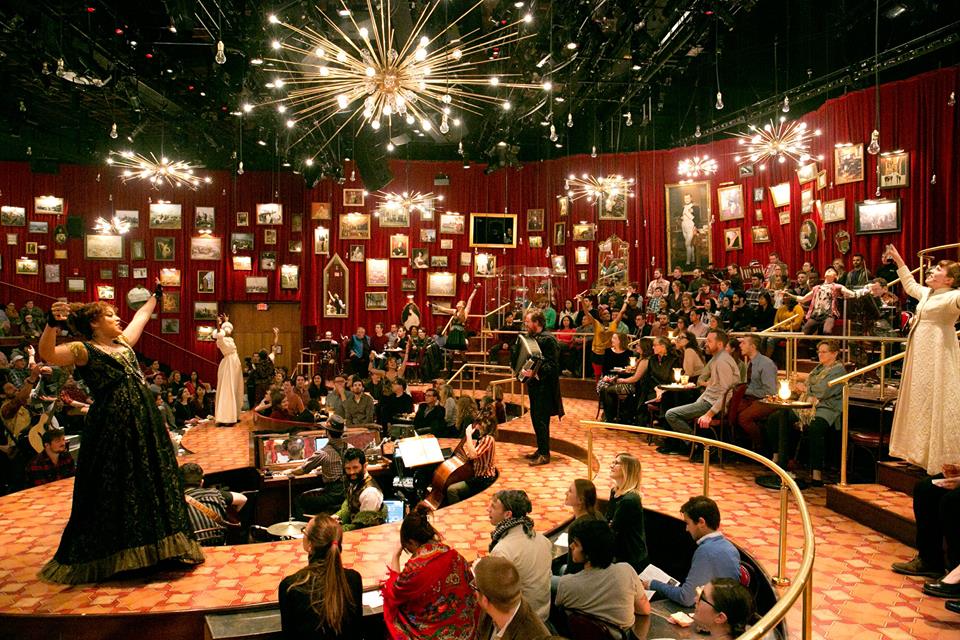 The performance was completely immersive from the start, with the actors singing, dancing, and fighting in and around the audience. Dolokhov sat with me for some time, singing out a letter and playing the guitar. Crazy prince Bolkonsky pulled up an audience member for a surprise inspection mid-song. We were citizens of imperial Russia, basking in the glamour and ignorance of the age. Perhaps even more striking than the physical presence of the actors, was the music. In traditional opera style all the lines were sung, but the comparison ends there. There were techno strains, dance beats, strobe lights, and Russian folk music strung together in a grungy, exposed take on Tolstoy's classical world. I think he would have liked it. It was never his intention to show a polished, proper society but rather to expose both the dark and light of our collective humanity. 
Adaptations of Tolstoy usually struggle with a few things: length, style, and interpretation. The Great Comet is only a 70 or so page slice of his epic, giving the audience a bite-size taste of Tolstoy's literary genius. It's a comprehensive story in and of itself but also a solid representation of the work it represents. And the best part is, for those who aren't as crazy as me, reading the book is not necessary to enjoying the show. The style of the show is an ideal blend of contemporary and classic. It preserves the integrity of the novel while making it applicable for a modern audience. Although it runs long, 2.5 hours, it flies by. War and Peace has endured for so long because of it's overarching themes: love, war, loss, redemption, and faith, among others. Malloy proves the transcendent quality of the work by bringing it to a twenty first century audience with all the power of a rock concert. 
If you see one show in the next year, it should be this one. I've already purchased tickets to go again. Seats are selling fast but you can still get them here. This may be the only opportunity you have to shed your furs at the door and enter a world so vast and so powerful it will leave you speechless.
Photos by Evgenia Eliseeva and Gretjen Helene Photography.
Disclaimer: A.R.T. did provide me with a complimentary preview of the show, however, all opinions are my own.