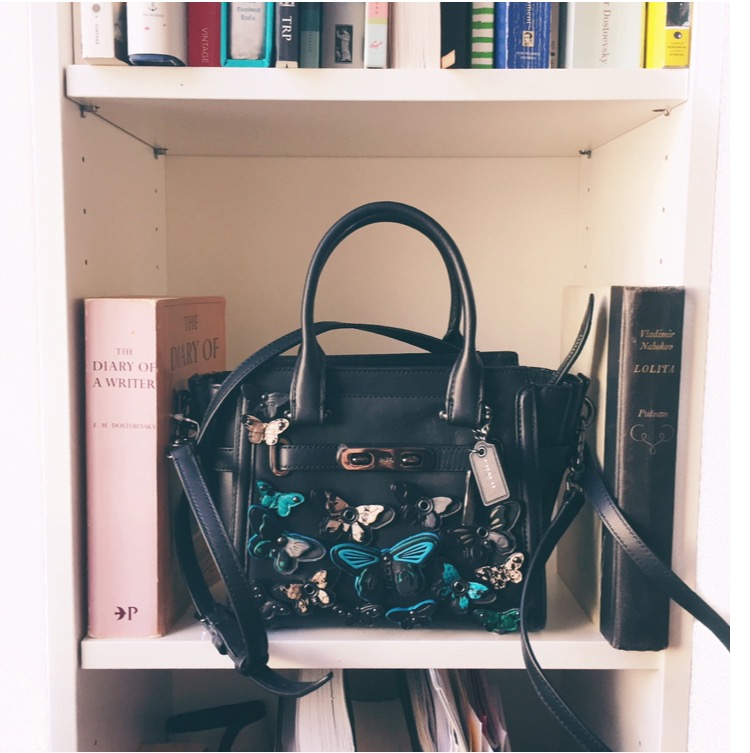 This past month I've had the pleasure of collaborating with Coach on a photo campaign to promote their Fall 2016 collection. They were looking to market the purses as an essential in the lives of stylish intellectuals, and that aesthetic is right up my alley. When designing the campaign I wanted to highlight the intellectual passions that fuel me like art, literature, and history, while showing how fashion fits in.
The campaign was hosted on my Instagram account which is marked by a very clean, minimalist aesthetic. In this shot I placed the Butterfly bag (available here) on a bookshelf between Dostoevsky's A Writer's Diary and Nabokov's Lolita, two of my favorites. I've long been a crusader for the camp that academic women can be fashionable as well, and this visualizes it perfectly. 
For this shot I partnered with Pucker Gallery on Newbury Street. They have a piece by Massachusetts artist Ali Clift that perfectly matches the beautiful bag. Because I'm an art reporter by day, it was important to me to show that fashion is every bit artwork as a painting or sculpture. 
When I saw this New Yorker cover I knew right away the colors would synthesize well with the bag. One of my markers of a good purse is whether or not I can fit a book in it (guess what, this one holds your traditional paperback nicely). 
For my last shot I had in mind a his and hers style photo with the delicate butterflies of my Coach bag and the more angular lines of a briefcase. My cohort was thoroughly embarrassed when I conducted a full photoshoot in the middle of our brunch, but let me tell you it was worth it.
To see more photos from the collaboration check out my Instagram @trendsandtolstoy.
Please note: Coach supplied me with the Butterfly bag free of charge, however all opinions expressed are my own.