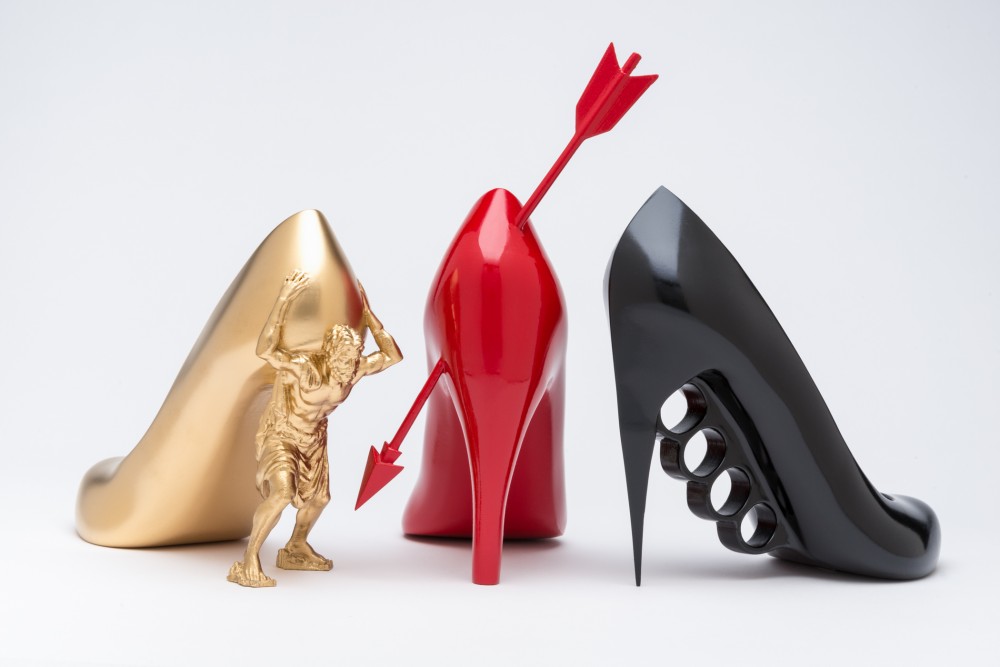 The Peabody Essex Museum debuts closet staples as art in "Shoes: Pleasure and Pain," on view through March 12, 2017. The vibrant, extensive exhibit looks at the creation and style of shoes from both design and historical perspectives. Many of the pieces reflect the use of clothing and footwear to restrict and control women; others reveal artistry often neglected in other sartorial areas.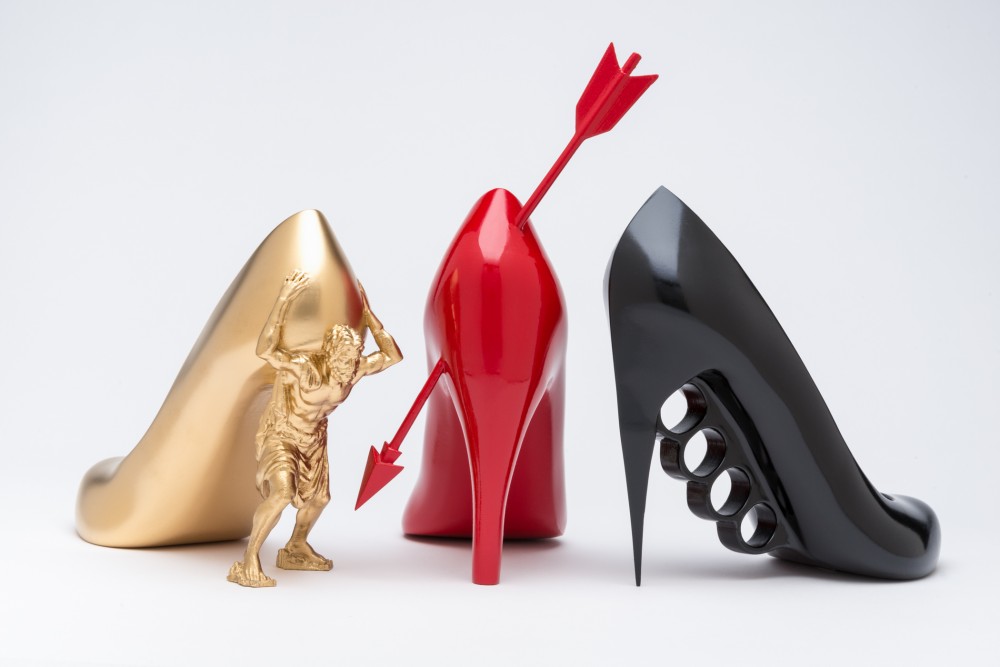 The show's entry rooms are some of the most dynamic from a curatorial standpoint. A pair of 17th century boots sits in a glass display case next to Naomi Campbell's infamous Vivienne Westwood blue platform crocs with nine-inch heels. Digital feeds on video screens around the room show women, from the calves down, walking in contemporary styles. The effect is a little voyeuristic, a subtle allusion to the history of fetishism affecting shoes and feet. Mirrors sit under the display cases to reflect your own feet back to you, begging the question, What do your shoes say?
Shoes made for Chinese foot binding offer a disturbing look at the usage of footwear for power and control. Fashionable society of imperial China considered tiny feet and the imbalanced swaying of those who bound theirs to be attractive. The popular belief was that the careful steps also strengthened vaginal muscles, though that was never proven. In the Shang Dynasty (1600-1046 B.C.E), the ideal shoe was made of silk and only measured 3 inches long. "Shoes: Pleasure and Pain" features a vast number of these contraptions, and seeing them next to an average sized shoe is chilling.
Comparisons between male and female shoes are equally revealing. Although high heels were first invented for men to hook into stirrups when riding a horse, even the heeled masculine shoes are more practical than the women's.
At times the exhibit veers on kitschy, with displays mimicking cutesy closets and quaint throw pillows with quotes like "Cinderella: proof that a new pair of shoes can change your life." Stations with seating and books on the history of footwear are available throughout the exhibit for those seeking more background. One section of the show goes into shoe business, dissecting the process of creation from design to execution. This beautifully melds entertainment with education, and covers ground all the way to the sneaker culture of the last 10 years.
A number of the shoes on display were manufactured for local distribution, a nice nod to nearby industrial towns. Over ten pairs of Jacques Heim shoes are displayed. Heim designed them in Paris in 1960 for Shain's Shoe Manufacture, who then distributed them in Ralph's, a popular shoe store in Newton and Boston. For many viewers, these are shoes they might inherit from parents or grandparents, a tangible connection to the history of footwear.
In another effort to connect locally, PEM partnered with Dress for Success Boston and hosted a two-week shoe drive after the exhibit launch. The nonprofit organization empowers women to be economically independent by providing professional attire and developmental tools to help them thrive in the workplace. Though they are no longer accepting donations at PEM, visitors are encouraged to pass along their gently worn footwear to women in need.
"Shoes: Pleasure and Pain," is a fun and fascinating looks at history via the shoes we've worn through it. There's something for the academic, the designer, and the shopaholic alike.
Photos courtesy of PEM.