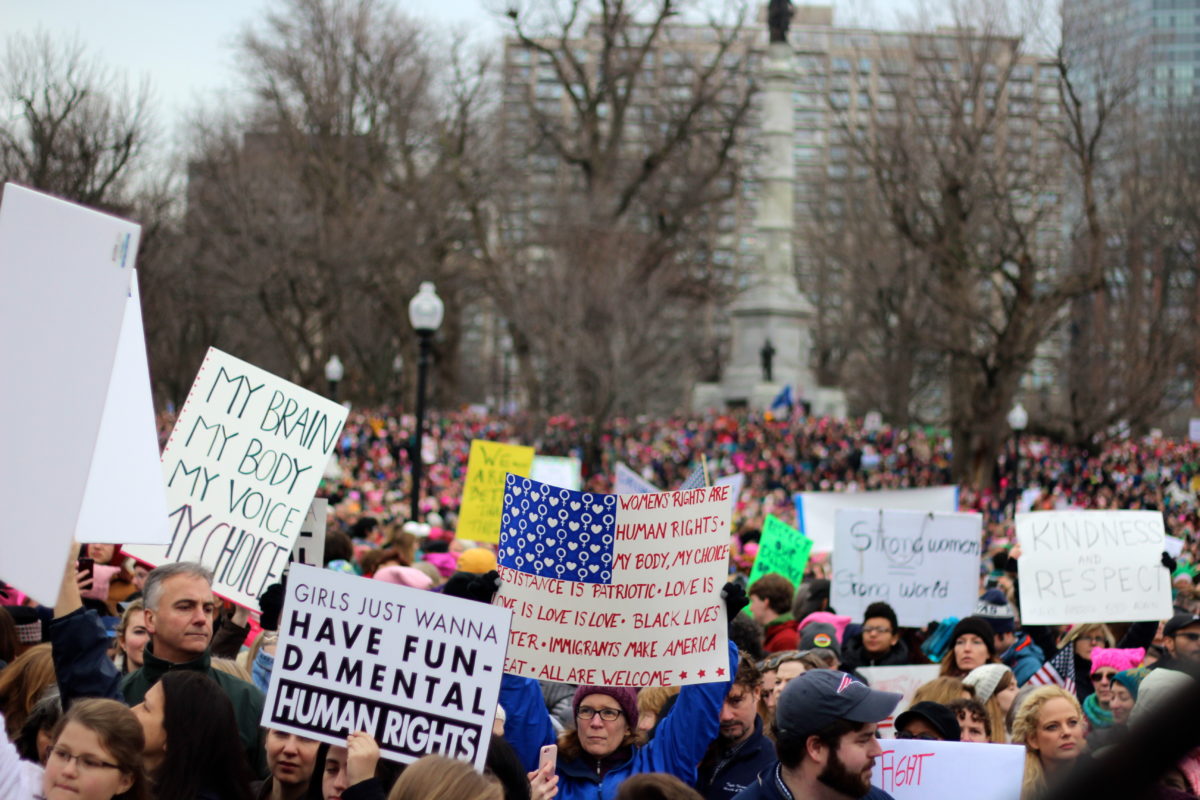 I was lucky enough to cover the Boston Women's March for The Bay State Banner last weekend. Over 175,000 people came out in support of unity, equality, and human decency. It was an incredible, powerful event. here's a snippet of my article on how art inspired and energized the crowd.
The arts came out in full force to support the Boston Women's March last Saturday. Among the estimated crowd of 175,000, many artists and performers marched in solidarity for gender, racial and religious equality. The pre-march rally relied heavily on the arts to inspire and amp up the crowd.
Gund Kwok is the only all-women's Asian lion and dragon dance troupe in the United States. They took the stage Saturday morning as a way of reappropriating a piece of their culture that had long been withheld from them. The troupe leader said, "They used to say women couldn't do this dance. We're here to prove them wrong."
The dance requires martial arts training, endurance, flexibility and creativity, and historically has been reserved for men. "Gund Kwok" means "heroine" in Chinese, a name taken from an old saying, "A heroine will not admit defeat to the hero." This phrase resonated with women holding signs stating, "The future is female" and "This pussy grabs back."
Many artistic nods to feminism were subtle, but packed a punch. When the Boston Children's Choir sang "American the Beautiful," they replaced "brotherhood" with "sisterhood," eliciting raucous cheers from the crowd. Halfway through her introduction, emcee Rev. Mariama White-Hammond whipped out a handmade pink pussy hat, the sartorial symbol of the worldwide marches. These seemingly minor details obtained just as much of a reaction as the rallying speeches given by Mayor Marty Walsh and Senator Elizabeth Warren, an indication of how powerful art can be.
The artistic set of the rally also expressed the diversity and inclusion the Women's March stood for. Everything was interpreted in sign language and the performers represented a broad racial and cultural spectrum. Samantha Fox Tree-McGrath, a First Nations person of Arawak descent, sang "Amazing Grace," first in Cherokee, then in English. Her mother, Claudia Fox Tree, gave an impassioned speech on behalf of women and Native Americans, saying, "We are the original survivors of this land. Standing is in our blood."
Art is in itself an exercise in the First Amendment. Music, performance and visual media were integral components in the women's marches across the world. For Boston, nothing better rallied the crowd than the songs, dances, and words of the oppressed, who continued creating despite their marginalization. In a spoken word poem, the 2016 Poet Laureate Nkosi Nkululeko expressed the spirit of the march best by stating, "You want to fight? I got blood to spare."
Photos are mine.