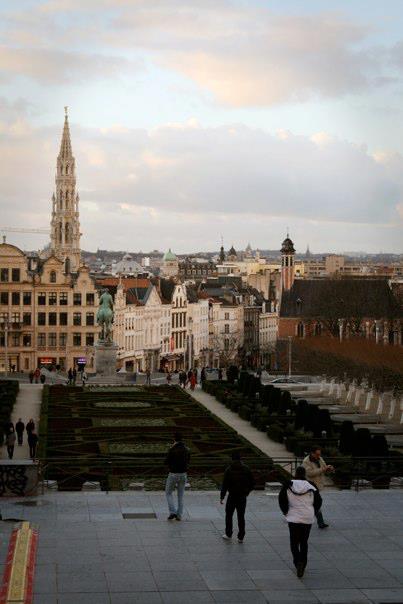 Last weekend the girls and I headed to Brussels, Belgium for an incredible weekend full of beautiful architecture, incredible food, and lots of bonding time. The city is so beautiful, and so interesting. Belgium has three national languages: French, Dutch, and German. Many people also speak English. The architecture is just as diverse as the linguistics, varying from brick buildings similar to those in Amsterdam, to a heavy art nouveau influence, to totally modern and streamlined. Overall Belgium, and Brussels in particular, seems to be a kind of cultural crossroads.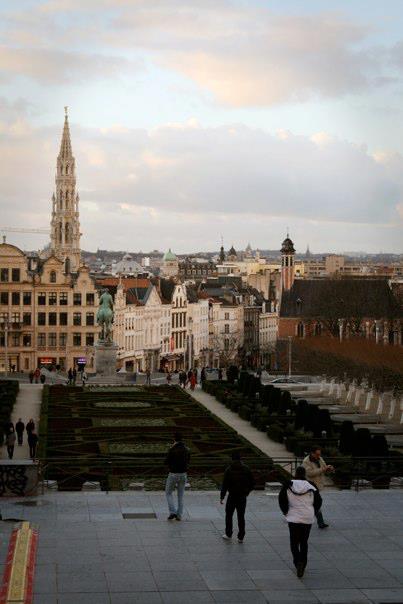 How incredible is this view of the city? So, so beautiful.
This is the group of us at Grande Place, a five minute walk from the apartment we rented for the weekend.
We spent a lot of time on the train going to and from Brussels, but I made sure to travel in style with my new polka dot bustier.
Homemade picnic sandwiches we made at the apartment.
Even the shopping centers are beautiful there!
Mussels are a specialty in Brussels so we couldn't help but try some!
Another group photo snapped in front of the city skyline.
One of many beautiful churches  dotting the city.
Some cool old cameras at the Marolles Flea Market, which has been rated one of the top ten flea markets in Europe. I picked up a small leather bound copy of the gospels in French, from 1845. It's so cool to think that over a hundred and fifty years ago someone was reading that book in a church somewhere, and now it's mine.
A croque madame for a light dinner one night.
We missed one of our trains on the way there! Fortunately it wasn't a problem, there was another one an hour later and we made it just fine.
And finally the waffles! We went to Dandoy Maison which is said to have the best waffles in Belgium. And let me tell you, I believe it. I have never tasted anything so perfect.
Photos by Jamie Kaplan and Jenni Heller.