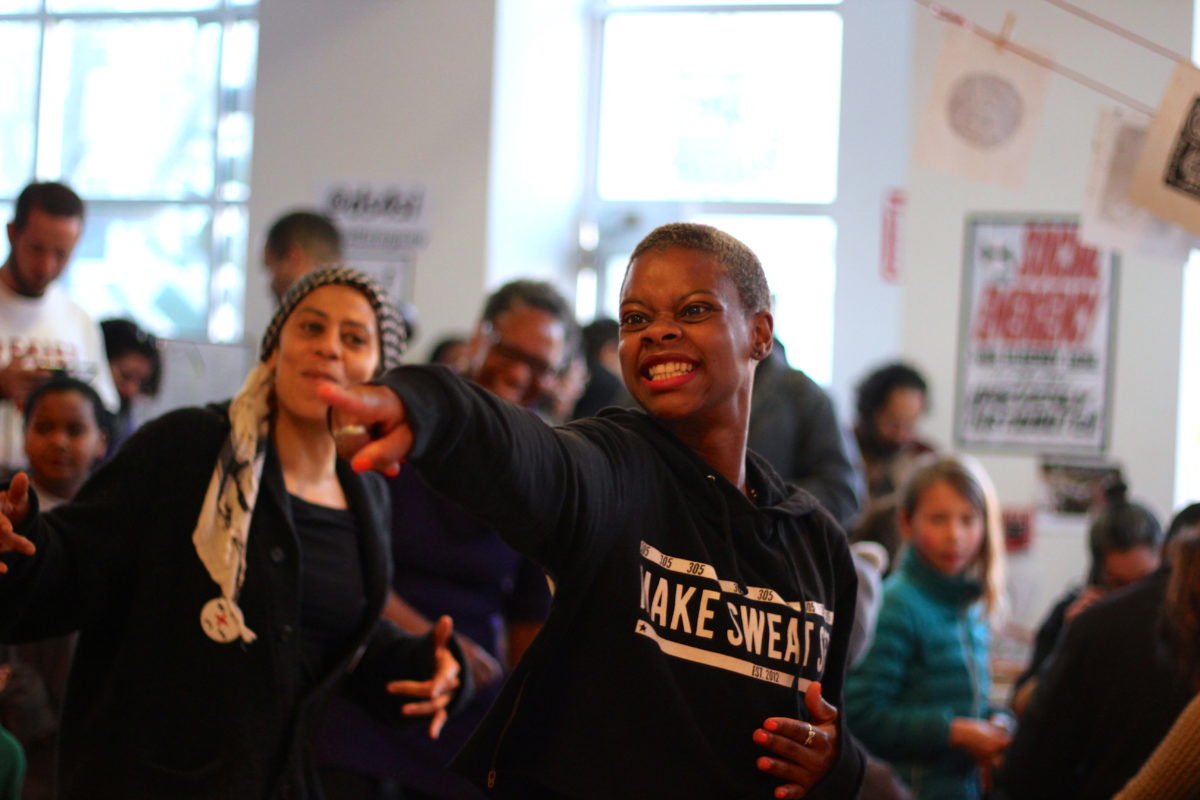 Last week I attended a powerful activist art installation at the Dorchester Arts Collaborative. Below is a snippet of my coverage for The Bay State Banner.
The Dorchester Arts Collaborative pulsed with laughter, energy and life last Saturday, Feb. 4. It was the second of two weekends during which the Design Studio for Social Intervention (DS4SI), hosted their Social Emergency Response Center project. The SERC drew inspiration from Emergency Response Centers that often evolve in the wake of disasters such as hurricanes, terrorist attacks, and earthquakes. In this case, the goal is to provide food, shelter, and artistic and spiritual healing to people who have been victims of racial violence and social repression.
Lori Lobenstine, program design lead, said the idea has been in the works since the Michael Brown shooting in 2014. "For other emergencies we had procedures," she said. "We started thinking about how people could organize for a social emergency. What would people be hungry for, if not food? What is the reconstruction needed to repair our democracy?" The result was a rich display of community activism.
The SERC had stations for food, healing, reading, planning and making, all backed by an impressive program agenda that was packed with activities. Genki Spark, an all-female, Asian music and cultural group, performed and taught audiences cathartic Taiko drumming. Fine arts instructor Taina Vargas taught printmaking, accompanied by empowering quotes about radical change and equality. Project South hosted a lecture and discussion on new forms of government. Lobenstine said there was so much interest, they couldn't accommodate all the artists who wanted to be involved.
The choice of location was strategic. Not only did the Dorchester Arts Collaborative have the space to accommodate the event, it's in the heart of an area that lives these issues daily. "We wanted to be in a neighborhood that has experienced social emergency, whether that's gentrification or violence in the black community," said Lobenstine. Education is as important in the SERC as healing. For many people, particularly white allies, Trump's presidency has brought these issues to light. But the underlying social conditions giving rise to them always were present. "The social emergency was already here. It was just unevenly distributed," Lobenstine said.
At the Saturday event, Smallie Michelle led an intensive aerobic dance workshop. It wasn't about keeping time to specific steps or beats. It was about collective movement and release. People of all races, genders and ages swayed their hips together to Shakira's latest hit. Those who weren't dancing clapped along. For the first time in a long time, everyone was smiling. SERC facilitated a sense of humanity, community and connection that is all-too rare in the contemporary world. "Artists and art are tremendously important right now," said Lobenstine. "Artists understand things that aren't as linear as politics. They understand emotions."
Photos are mine.