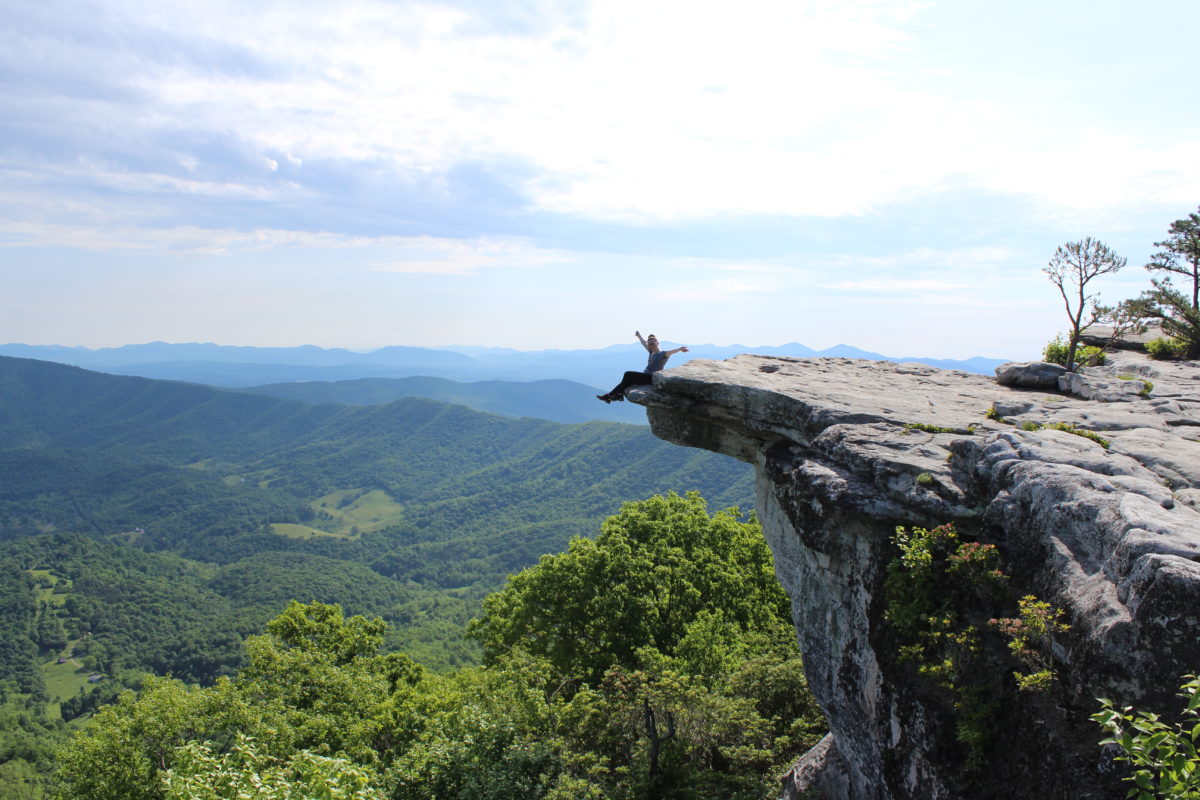 Last weekend I went very off brand on a trip to the nature paradise of Roanoke, Virginia. I hiked. I drank a beer flight. I wore a t-shirt. And it was so much fun. I fell in love with the star city's metro-mountain balance. In town you have hip bars, live music, and cute boutiques, and a five minute drive away you've got lush mountains, manicured parks, and more foliage than I've ever seen. No matter where you go, a stunning rooftop or a Stop-and-Shop, you're faced with a landscape even Cezanne would drool over.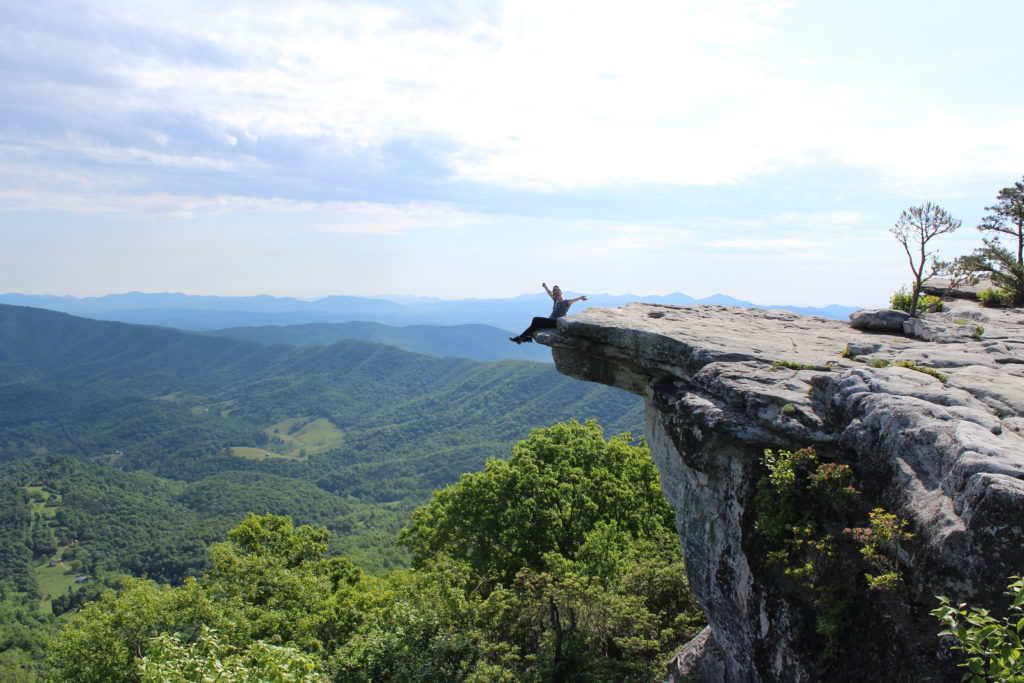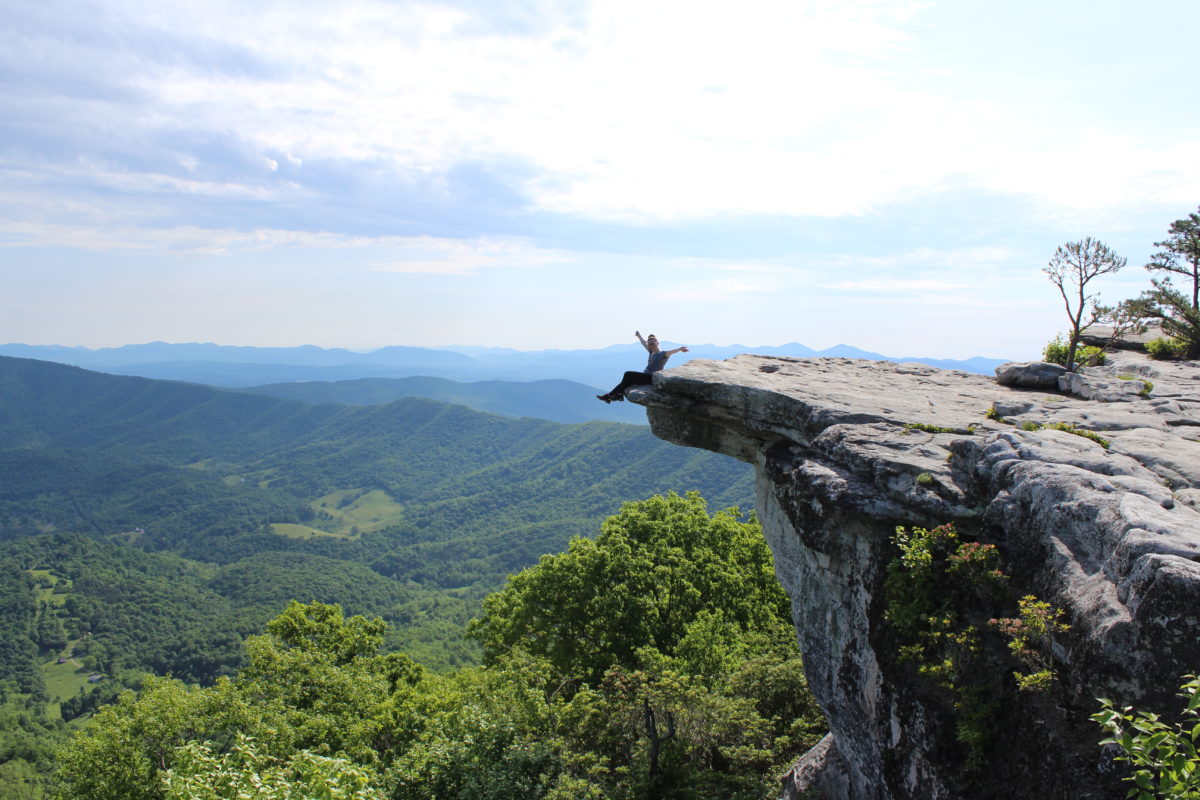 Where to Stay
If you're looking for a luxury experience (and frankly, you always should be) you can't beat Hotel Roanoke. Settled on beautifully manicured lawns, this 4-star Tudor-style hotel dates back to 1882. It features a pool, in-room spa services, and patio dining. Even better, it's just a short walk from downtown Roanoke, so it's a great option if you don't want to rent a car. The city is very walkable, you'll need an Uber to get to and from the airport and to any major mountains but you can do local sights easily walking and on public transit.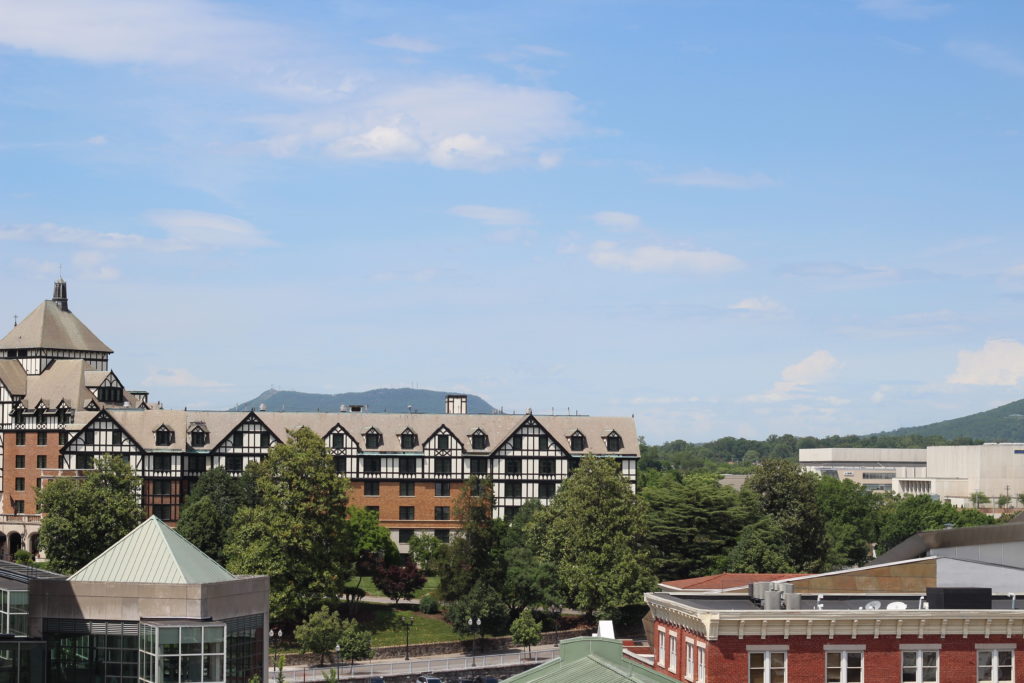 Many of the other hotels are your traditional sort, there are a few Hampton Inns, a Hilton Garden, and a Hyatt Place. I stayed at the Hampton Inn by the airport and while not particularly instagrammable, it gets the job done quite comfortably. For a cheaper alternative there are a number of adorable B&Bs downtown, like Rose Hill Bed and Breakfast. I also spy some great full-apartment Airbnbs for as low as $60. To be honest, this is one location where the accommodations aren't crucial. In a city with this much natural beauty, you won't want to be cooped up inside.
What to Do
Though it's known for outdoor activities, Roanoke has an incredible arts and culture scene. The Taubman Museum of Art is flourishing under the direction of Amy Moorefield. She focuses on emerging artists who can create new work specifically for the Taubman shows. Even better, the work covers a diverse group of artists, celebrating the 105 ethnicities represented in Roanoke. Museum junkies can also hit Center in the Square, a seven-story building housing institutions of all kinds, including a butterfly garden, a pinball museum, and a roof deck with beautiful views of the city.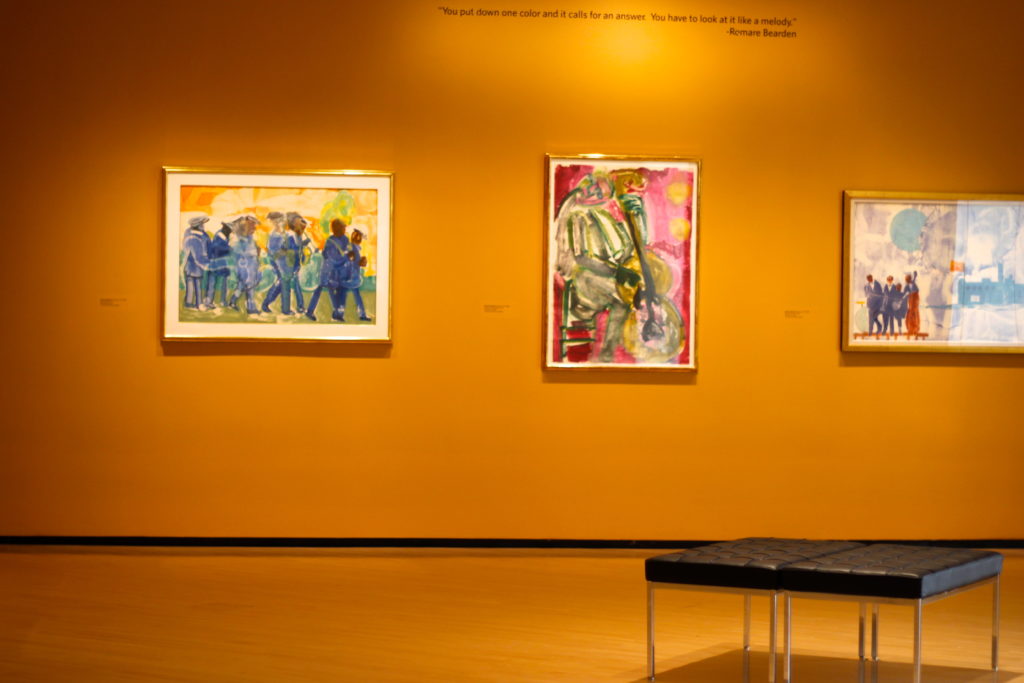 Shoppers rejoice, 13th Street boasts Black Dog Salvage of the HGTV show Salvage Dawgs. The founders Mike and Robert restore and repurpose old items to have beautiful second lives. Driftwood transforms into handcrafted tables, stained glass church windows find a new life as an art piece, and light fixtures are made from scratch. When they're not filming or creating, Mike and Robert are around the store, happy to chat with any of their customers. Even better, there's usually at least one dog around too.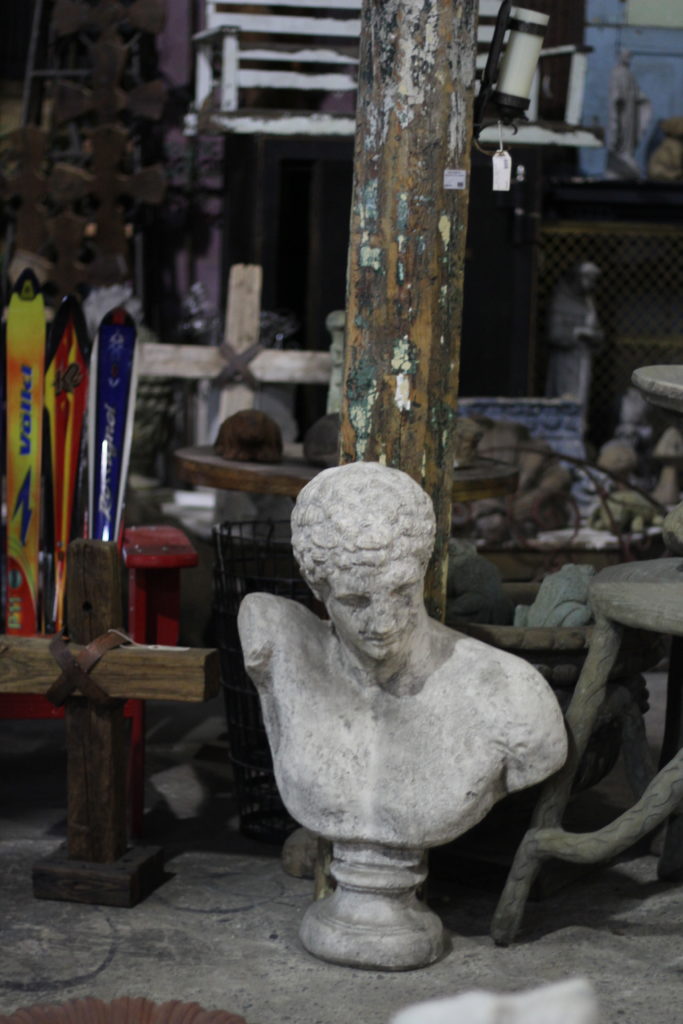 Not to be forgotten, Roanoke provides a plethora of outdoor activities including hiking, biking, kayaking, nature walks, and picnicking among others. I chose to hike McAfee's Knob, the most photographed summit on the Appalachian trail. I also learned that in Virginia it's pronounced Appa-LATCH-uh, and using the pronunciation Appa-LAY-shuh, is a surefire way to identify yourself as a tourist. Later this week I'll be writing about my experience on McAfee, stay tuned!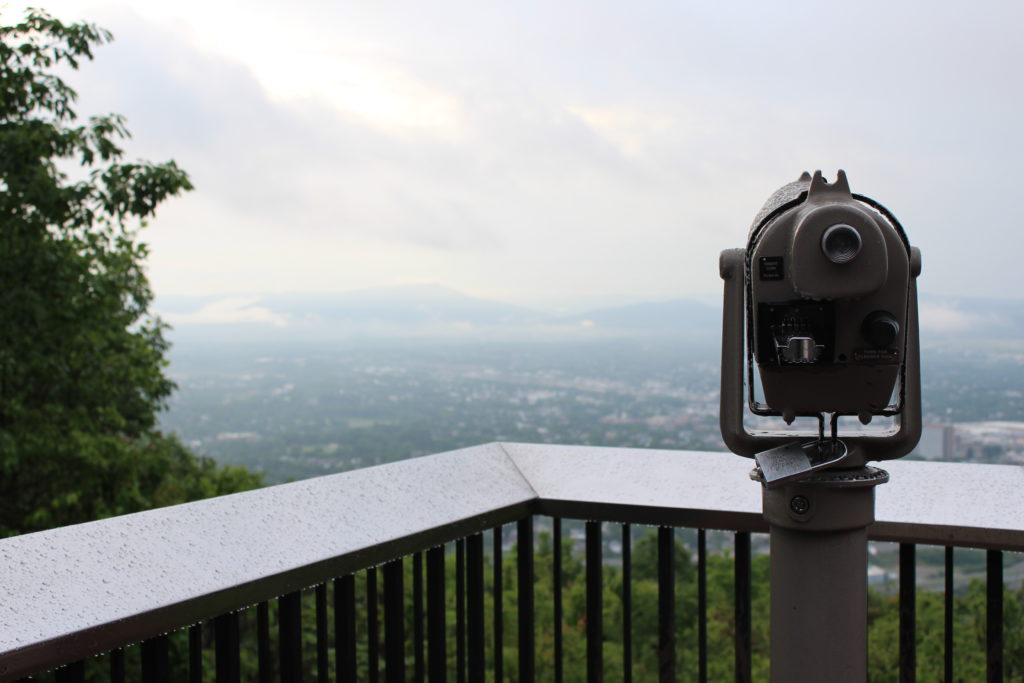 If you're not one for physical activity (usually I'm in that camp) but still want to see the sights, there are a number of nature options that you can drive. The Blue Ridge Parkway is a scenic drive with many pull-offs boasting mountain views. The famous Roanoke star can also be reached by car and sits across from an expansive overlook of downtown Roanoke.
Where to Eat
For a cold beer after a hike (or lunch) hit Parkway Brewery. In addition to a cool, artsy vibe, the brewery offers some really innovative flavors, like the Cock-a-Doodle Brew made with Red Rooster coffee. Situated in an old warehouse with big open garage doors for a covered-patio vibe, Parkway has a bring-your-own-food policy and serves up their flights with performances by local musicians.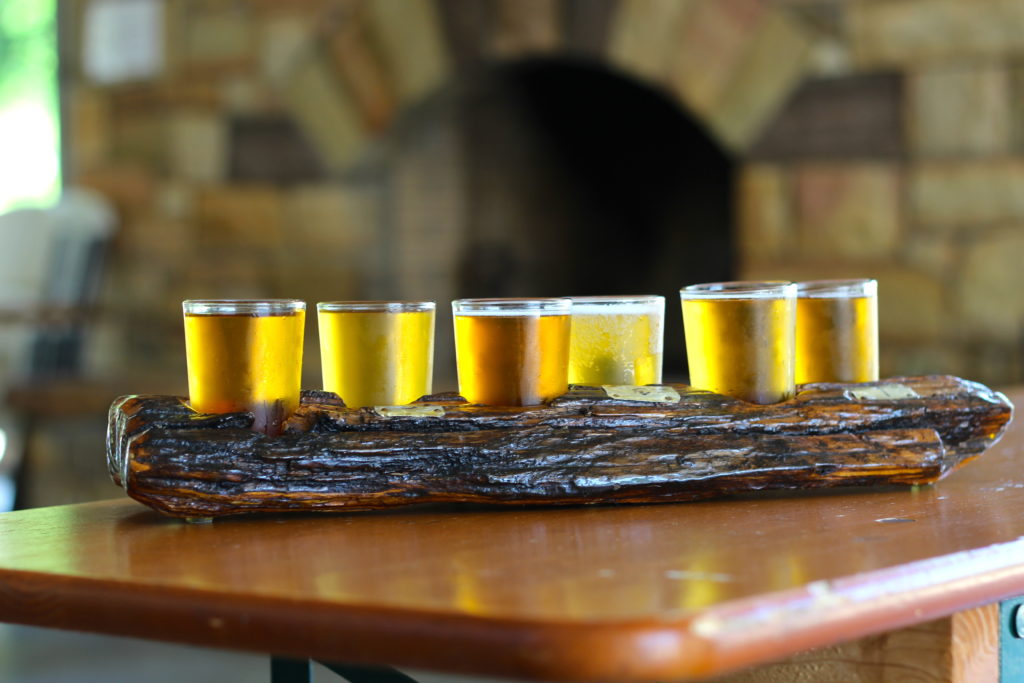 For dinner I recommend Lucky or Fortunato downtown. They're both owned by local musicians J.P. Powell and Hunter Johnson of MY RADIO. While touring they became fascinated with the food and cocktails they sampled along the way. They decided artisanal restaurants were exactly what Roanoke needed. I ate at Fortunato, the Italian edition, and was very impressed. The innovative cocktail menu and adventurous food offerings (you know how I feel about octopus!) felt like something you would find in Boston or New York.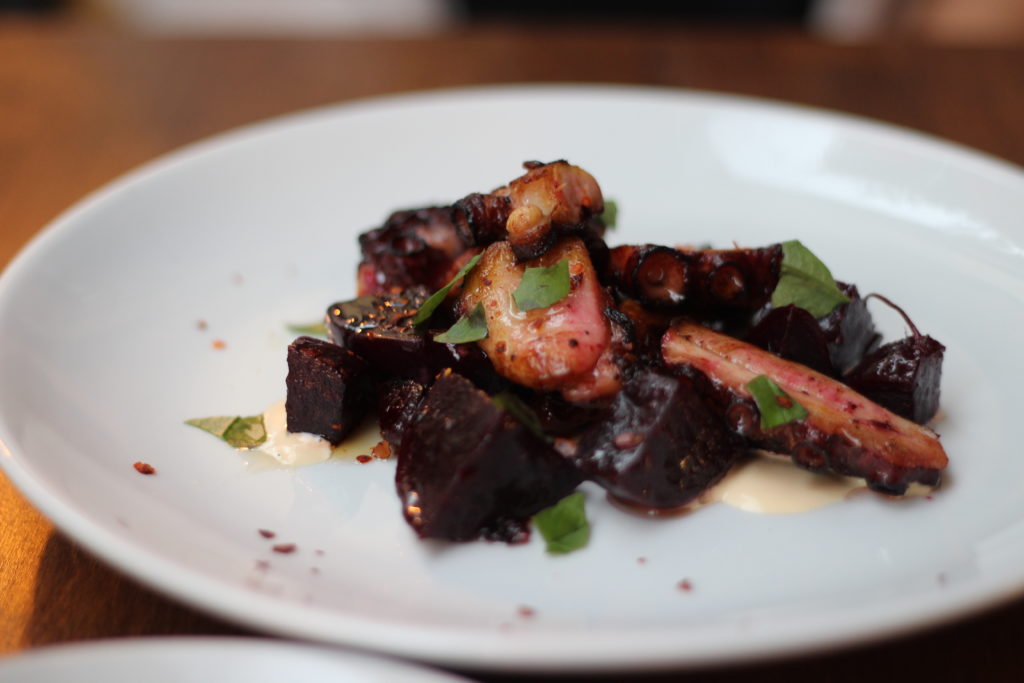 The duo also owns the speakeasy style bar Stellina, right next to Fortunato. You won't find it publicized anywhere, they don't even have a website. But they serve up fresh mixes Thursday-Saturday nights. If you like bourbon, ask for the off-menu "Cube," a citrus frozen cube that they pour a healthy serving of bourbon over. As the cube melts the flavor of the drink develops. Don't worry, you can get additional bourbon shots as you go along. Locals play a Where's Waldo game with the Stellina wallpaper. It's a baroque-style metallic print of men in suits. Legend has it Andy Warhol is hidden somewhere in the bar walls.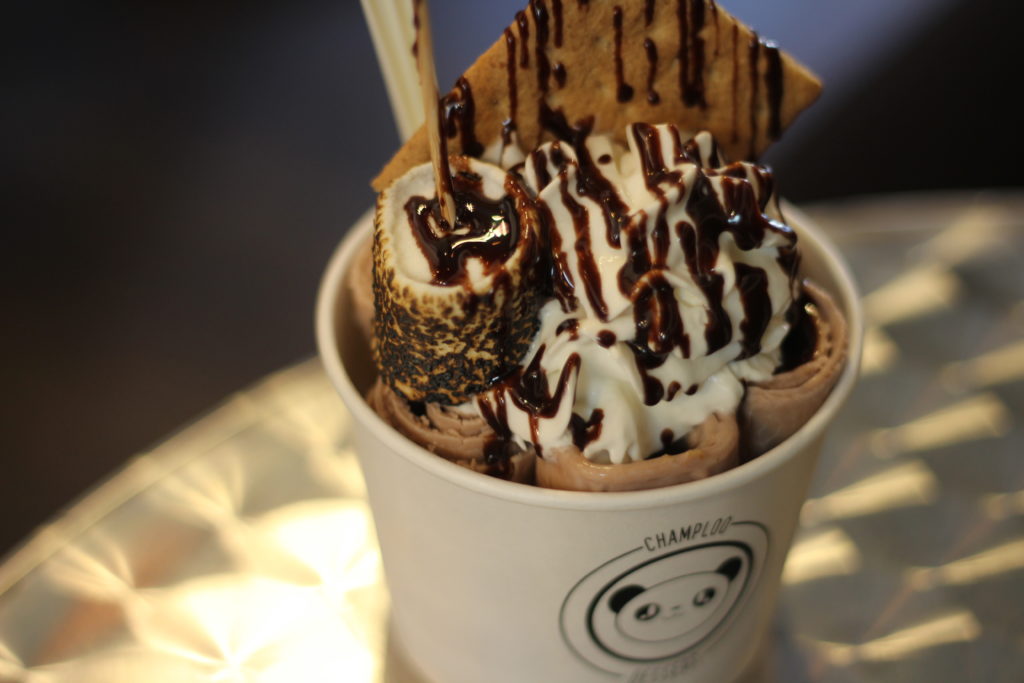 To satiate that post-dinner sweet tooth head to Champloo, a quick drive over in the neighboring town Salem. They create ice cream creations by rolling sheets of ice cream into five or six tiny tubes and then heaping on the toppings. Pictured above is the s'mores flavor complete with toasted marshmallow and graham cracker. Also on their menu, Kettle Bae, uses kettle corn from a local producer.
A huge thank you to Visit Blue Ridge for hosting me and to Taylor Ricotta for touring me around. Having never been to Virginia, I wasn't sure what to expect. I left prepared for sticky weather, uncomfortable outdoor activities, and Southern sensibilities. Roanoke turned out to be an enchanting crossroads between hip, city living and natural beauty. They weren't kidding when they nicknamed this place "Magic City."
Please note that I was provided with complimentary meals and services by Visit Blue Ridge and the above businesses, however, all views expressed are my honest opinion.