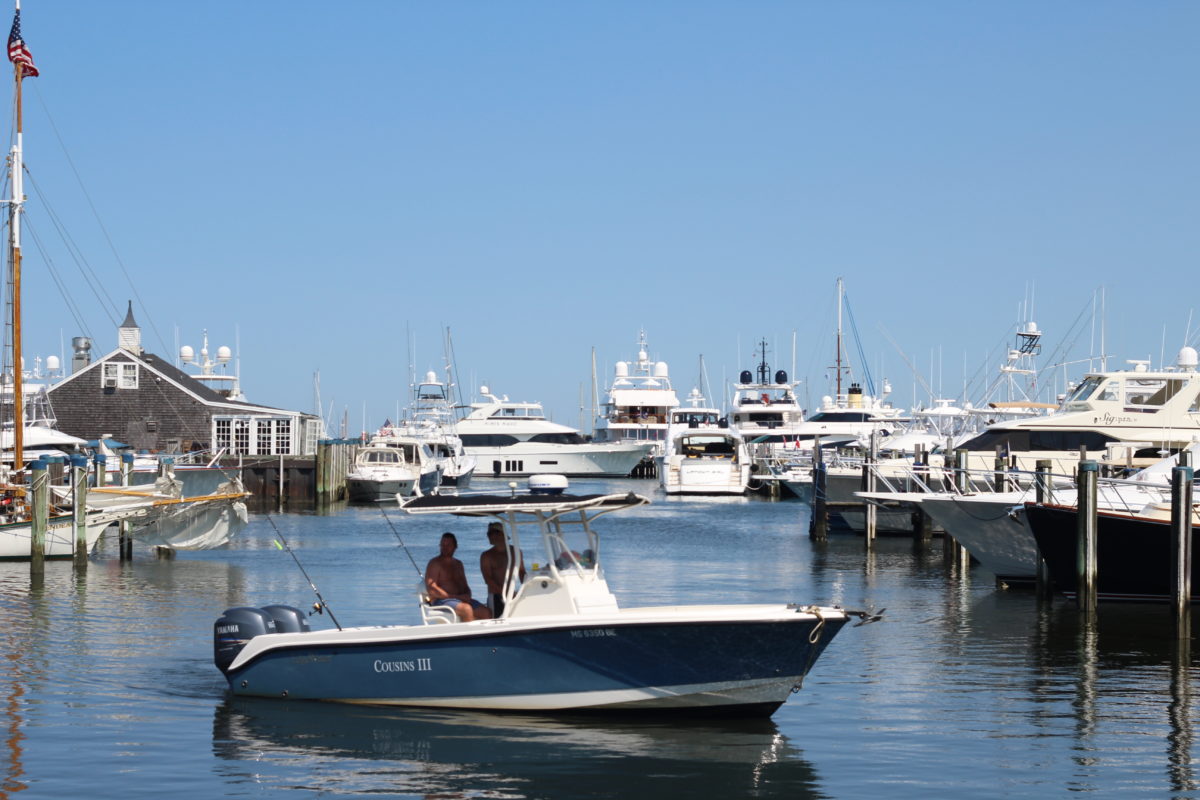 Last Wednesday I played hooky on work for an unforgettable day trip to Nantucket, courtesy of New England Development. I linked up with a very talented blogger crew (Prim and Propah, Oh, I Design, Design Fixation, and A City Girl's Guide) and sailed off to the cedar-shingled capital of New England.
This was my first time on the island of striped tees and sailboats, and let me tell you, it lives up to hype. The moment we stepped off the Hy-Line boat onto the wood planked dock we were whisked from one delightful surprise to another. Our tour started at G.S. Hill Gallery, an independently run gallery operated by oil painter G.S. Hill and his wife. A short walk down the cobblestoned street sits Aunt Leah's Fudge, a tiny, charming building containing some of the most mouth-water fudge I've ever eaten.
Most of the shops on the island are locally run, in fact the town voted in 2006 to ban chains with more than 14 storefronts from the main shopping drag. This keeps the downtown quaint and Wal-mart free. We stopped in Monelle, Shift Stores, Sarah Campbell, Ellie Kai, Remy Creations, Best of the Beach, Freedman's, and Beautycounter throughout the day. What makes smaller stores like these so remarkable is the dedication to the product. In many instances the owners were present and eager to talk about their vision. This kind of hands-on operation is rare and wonderful. 
Monelle was the sassy, girly boutique of my dreams. Everything was covered in pastel fur and sequins. Even in the dead of summer the soft sweaters and faux furs made me want to snuggle up with a new translation of Anna Karenina and some cocoa. Freedman's was my other favorite, a cross between a gallery and antique store, the space boasted unique items designed by the shop's namesake artist. 
We stopped for lunch at Met on Main, a relative of Met Back Bay here in Boston. Those folks are not messing around when it comes to good food. They spoiled us with sparkling rosé, fresh oysters, a loaded lobster roll, and rosemary parmesan french fries that I'm still dreaming about. We also had the chance to sample the pies at Oath Pizza, and grabbed dessert at Ice Nantucket. 
Long story short, we were spoiled rotten. It was tough coming back to the office after a day of breezy temps, perfect sunshine, and good company. A huge thank you to New England Development and everyone who made this trip special. And a shout out to my blogger gals, who showed me that talent, style, humor, and heart can, and do, come packaged together. 
Photos are mine.
Please note: I was provided with a complimentary trip to Nantucket by New England Development, however, all opinions expressed are my own.